23.10.2013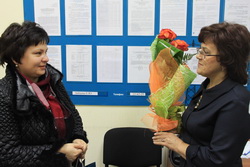 Employees of IDGC of Centre solemnly congratulated the 25000th customer, who applied to the Customer Service Centre (CSC) of Lipetsk with a grid connection request for his house to the networks of IDGC of Centre. The anniversary client was Nadezhda Okolelova, she was congratulated and given a memorable gift by the head of customer interaction Office of IDGC of Centre — Lipetskenergo division Sergey Bukarev.
«I am grateful to all the staff of the CSC for their professionalism and respect for customers. This approach allows us to feel confident in matters related to energy supply, requiring specialized knowledge. I was helped fill in the grid connection application, calculate the required maximum capacity of power installations. I learned that IDGC of Centre works at simplifying procedures for grid connection and already now you can order the service "Maintenance of a grid connection", according to which Lipetskenergo will perform all the work themselves. This is the very thing called — towards the consumer. Very convenient!» stressed Nadezhda in her response.
The Lipetsk CSC began its work in December 2008. It was the second one in the Lipetsk region. The first CSC in Yelets received customers in July 2007. Today, the region has three CSCs — in Lipetsk, Dankov and Yelets.
The Customer Service Centres perform on-site customer service. Visiting the CSC, the client can get all information of interest on grid connection to electric networks, transmission of electrical energy, to file a request, a claim, and obtain reference information on activities of other utilities in the region.
The CSC's experts will explain the algorithm of actions, will help fill in necessary documents, will assist in performance of all conditions for a grid connection. For customers of IDGC of Centre there is around the clock direct line of power engineers in operation at 8 (800) 50-50-115, by calling which you can be consulted on all matters relating to energy supply.