16.10.2013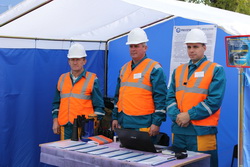 IDGC of Centre — Voronezhenergo division took part in a review of readiness of the forces and means of the functional and territorial subsystem of a unified state system of prevention and liquidation of emergency situations of natural and man-made character in the Voronezh region (emergency management). The event was part of the held on October 11 in Voronezh a visiting meeting of the board of the Russian Emergencies Ministry chaired by the department head Vladimir Puchkov.
At the Voronezh stadium «Chaika» a total of more than 150 pieces of equipment were presented, which is in service with MOE, fire departments, the police, the Federal Service on Surveillance for Consumer rights protection and human well-being and other services and agencies. A central place was given to special vehicles of Voronezhenergo: crane-boring machines, aerial trucks, a truck crane, a snowmobile «Buran», etc.
The review was also attended by experts from the operational group of the branch. They deployed and showed the guests a mobile workstation, equipped with everything necessary to ensure that power engineers can in the shortest possible time start working in an area of disasters: GPS-navigators, communications, special clothing, technical documentation, and three-day dry rations.
According to the head of Voronezhenergo Ivan Kleymenov, in the course of the review the branch's experts vividly demonstrated that they possess all the necessary resources for successful solution of the most difficult tasks to eliminate emergencies at power grid facilities under their service.
In turn, the Minister of Emergency Situations gave a positive assessment of the level of logistical support for emergency management in the Voronezh region and the work of the whole system. «The Commission for Emergency Situations of the region, the General Directorate of EMERCOM of the Voronezh region, and all relevant entities work efficiently. Life safety of the population, sustainable operation of critical facilities of the economy, and socially significant facilities in the region are at a high level,» stressed Vladimir Puchkov following the results of the board meeting.