27.08.2013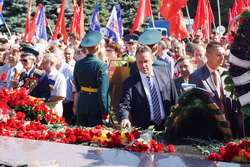 During the celebrations to mark the 70th anniversary of the Kursk Battle IDGC of Centre — Kurskenergo division took additional measures to ensure reliable power supply to customers and locations of the festivities.
In the period from 20 to 23 August the power grid facilities of the Kursk region worked in a special high alert mode operation. IDGC of Centre — Kurskenergo division had constantly acting headquarters for the prevention and immediate elimination of process failures and emergencies in maintained electrical networks, around the clock duty of engineering and technical personnel and electricians of first responding mobile crews.
At the first signal of the headquarters the liquidation of process failures could immediately involve mobile uninterrupted power supply sources, specialized vehicles for restoration operations and an electrotechnical laboratory. In addition, close cooperation with the federal and municipal authorities, the Ministry of Emergency Situations of Russia in the Kursk region, and energy companies of the region was ensured.
On the eve of the holiday throughout the Kursk region the status of electrical equipment was checked, with special attention paid to power installations that feed infrastructure facilities.
The lack of technological failures in the electric grid complex allowed the Kursk power engineers of IDGC of Centre not only to work in the normal operation mode, but also to take an active part in the mass celebrations throughout the Kursk region. The employees of Kurskenergo with thousands of residents of the Kursk region laid flowers at the monuments to the heroes of the Kursk Battle, and became spectators of a military parade, which took place on August 23 at the Memorial complex «Kursk Bulge».
«Thanks to the timely and quality implementation of a number of measures it made possible to avoid technological failures in the distribution grid complex of the Kursk region during these important for the whole country holidays,» underlined Deputy General Director of IDGC of Centre — Kurskenergo division director Alexander Pilyugin.