26.08.2013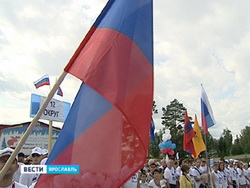 IDGC of Centre — Yarenergo division provided reliable power supply to the Sports Games, dedicated to the Day of the Russian Flag. The competitions took place on August 22 at the site of the sports centre «Demino» in Rybinsky district of the Yaroslavl region. It was attended by over a hundred amateur athletes from the entire region.
Before starting the Sports Games Yarenergo's specialists performed extraordinary inspections of equipment, providing electricity to the sports complex: of the 35/10 kV substation «Demino» and 110/35/10 kV «Left bank», as well as the 35 kV overhead power line «Shashkovo-Left bank» and «Demino». At the time of the events the branch organized around the clock duty service of the staff. In the end, the event passed without any technical failures in the power system.
Every major sporting event, which takes place in Demino, is under special control of Yarenergo. In particular, for seven consecutive years the Yaroslavl branch provides reliable power supply of the international ski marathon. In December 2012 the power engineers connected the sports complex to the reserve 35 kV overhead line «Demino» so that athletes could not experience any problems with electricity, caused by technological disturbances in the grid. Both lines come from the 110/35 kV substation «Left bank», but from different bus sections. This ensures uninterruptible power supply of the complex in an emergency.