31.07.2013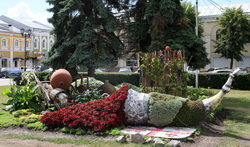 Governor of the Yaroslavl region Sergey Yastrebov thanked the staff of IDGC of Centre — Yarenergo division for outstanding contribution to improvement of urban areas.
Provision of urban amenities is an important part of the social life of the Yaroslavl branch of the company. In the framework of the campaign «Save the energy of the forest» Yarenergo's employees each year plant young trees in the squares and parks of the city. In addition, power engineers are always actively involved in voluntary Saturday work and month's cleaning campaigns.
Another direction of the improvement activity is to participate in a citywide contest «Yaroslavl in bloom».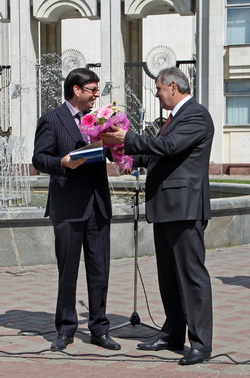 Along with other Yaroslavl companies the power engineers prepare flower beds, flower arrangements and landscape design objects, which then all summer adorn the historic centre of Yaroslavl.
This year Yarenergo presented its floral arrangement under the title «The Generosity of Georgia». It corresponded to the overall theme of the contest — «The Many Faces of Yaroslavl», the aim of which was to reveal the multi-ethnic character of Yaroslavl. In the centre of the flower bed there is a huge horn with wine — a symbol of the country and an indispensable attribute of national feast, made in the form of multi-coloured spreading of ornamental plants. Next to it there are mountain slopes, covered with petals and buds. A crock in a peasant cart, a head of sheep cheese, vines entwining a fence — all this creates a unique flavour and makes the flower arrangement a complete work of art.
«We want Yaroslavl to be a beautiful, bright and clean city. Flowers are a joy. It gives us great pleasure to give this joy to our colleagues, residents and visitors of the city of Yaroslavl,» underlined the head of the administration office of IDGC of Centre — Yarenergo division Olga Dubova.