09.07.2013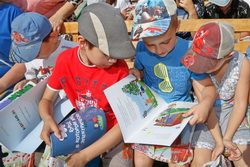 In the name of Deputy General Director of IDGC of Centre — Kostromaenergo division director Alexander Glebov a letter was received from Director of the Department of Social Welfare, Guardianship of the Kostroma region Igor Prudnikov " for the cooperation and assistance in organizing and conducting electric injury prevention activities". The cooperation of the Department of Social Welfare and Kostromaenergo is systematic and ongoing. Since the beginning of 2013 the specialists of IDGC of Centre — Kostromaenergo division held electric safety lessons for 178 educational institutions of the city and region, more than 7,500 children participated in them. Experts of Kostromaenergo together with teachers hold themed parent meetings to explain and remind them of special supervision of children by the adult in terms of their safe behaviour.
The letter of thanks gave high evaluation to the personnel of Ostrovsky Distribution Zone, who regularly conducts electric safety classes in the Ostrovsky orphanage. " Kostromaenergo is a reliable guarantor of implementation of national projects in the education system of Ostrovsky district". Ostrovsky Distribution Zone has been cooperating with the Ostrovsky orphanage for several years, in addition to lessons on prevention of electric injuries it hosts festivals, distributes tutorials and posters. " Chief of Ostrovsky Distribution Zone Sergey Chistyakov is our frequent guest," says Director of Ostrovsky orphanage of the Kostroma region Olga Baranova. " Power engineers are recognized in the street, respected, and they with great interest take part in activities and celebrations. Recently, all the children received an excellent tutorial book " Energoland".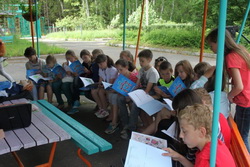 Presentation of the book " Energoland" took place not only in the children' s home, in the middle of June it was also held in the recreational camp " Electronic". Overt interest in the book, except the young readers, was also expressed by specialists of specialized structures of the regional administration, representatives of Ministry of Emergency Situations, educational community, and regional media.
Preventive work on children' s electric injuries, especially during the summer holidays, does not stop. In July of this year, Kostroma children will meet " His Majesty Electricity" in the pages of a colorful magazine " Teleseven", which is a supplement to the newspaper " Komsomolskaya Pravda". Kostromaenergo opens a competition " Continue a fairy tale", where everyone can not only be creative, but also get acquainted with the laws of the country Energoland. Now Kostromaenergo plans to hold a joint campaign " Collect your Energoland" with the regional newspaper " Severnaya Pravda".