08.07.2013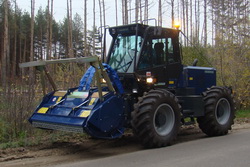 IDGC of Centre — Bryanskenergo division gives special attention to ROW clearing along overhead lines, as ROW clearing along power lines eliminates the risk of outages associated with the fall of trees on power lines and avoids technological failures of power supply equipment.
In the first six months of 2013 employees of the branch and contractors cleared ROWs along the lines of all voltage classes in the area of 497.25 hectares, accounting for 68% of the planned annual volume (in 2013 it is planned to clear 734.21 hectares of ROWs off bushes and undergrowth along overhead lines). This year, the clearing rate is 37% higher than last year's figures for the same period. The use of high-tech equipment and modern technologies of clearing contributes significantly to it.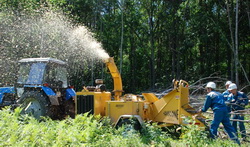 While clearing ROWs specialists of Bryanskenergo use mulchers (off-highway mechanical wood chippers), which allow to make the whole process of clearing within one operation. This special type of machinery is well proven in service in terms of environmental and fire safety, and cost effectiveness as well. The mulcher provides continuous grinding of vegetation into chips, which is not required to recycle further. This reduces the amount of manual labour, improves productivity, significantly increasing the area and amount of clearing.
According to the head of the department of analysis and production management of IDGC of Centre — Bryanskenergo division Sergey Razumov, «now in the service area the branch there are 25,310 km of power lines. Half of them pass through dense forest areas, so the work of ROW clearing is given the highest priority.»