24.06.2013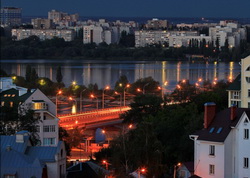 In 2013, IDGC of Centre — Voronezhenergo division will spend over 2.7 million rubles on the implementation of its environmental policy, which is 22.7% higher than similar costs of the previous year.
492 thousand rubles will be spent on the transfer of waste to specialized organizations having a license for the treatment of hazardous waste and 500 thousand rubles on the development of MPE projects.
As part of the environmental program Voronezh power engineers have planned planting and landscaping, instrument control of set standards for maximum permissible emissions, development of projects of maximum permissible emissions, control of storage of tires, monitoring the accumulation of used mercury lamps.
According to Head of Occupational Health and Environmental Safety Svetlana Tikhonova, Voronezhenergo's production activity is carried out strictly in accordance with the ongoing projects of maximum permissible emissions of pollutants into the atmosphere; draft standards for waste disposal limits.
«By implementing the environmental policy in the branch, we are able to significantly reduce the emission of pollutants into the atmosphere, and decrease the formation of industrial waste. Thus, power engineers minimize the negative impact of industrial activity on the environment,» added Svetlana Tikhonova.