04.06.2013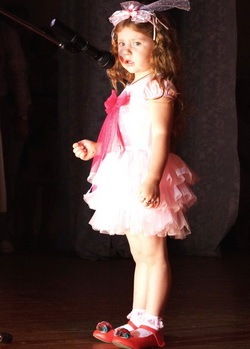 IDGC of Centre — Kurskenergo division hosted another review — contest of amateur children's creativity «Bright rays», dedicated to the International Children's Day.
This year's contest «Bright rays» became the eighth and the first in an expanded format with the participation of children of the department of «Kurskenergosbyt». Totally more than eighty children decided to test their creativity in five nominations in two age categories.
The children with great excitement went on stage to showcase their vocal and dance abilities, practiced playing musical instruments and artistic recitation. At the exhibition of applied art the children presented their crafts and embroidery, paintings and even a homemade radio set.
The creativity of the contestants was evaluated by a jury of professional cultural workers of the Kursk region. As they admitted, their task was not easy. To distinguish all the favorite young actors, they even had to initiate several additional nominations.
Three-year old Eugenya Dementieva won the jury by the fact that dared to go on stage and read by heart «Fly — Boldly Buzzing» and her sincerity and spontaneity were awarded a special diploma «Most young talent». Nikolay Kalashnikov in his 6 years of age incredibly comfortable felt on the stage, his bright performance of the song «Three tankers» was awarded the Audience Prize. Grand Prix of the jury unanimously was awarded to the artistically played «Monologue of a ragdoll» performed by 14-year-old Inna Khazratova.
But all the contestants without exception went to the stage for awarding to get their deserved certificate and valuable gift.
Closing the Children's Art Festival, Deputy General Director of IDGC of Centre — Kurskenergo division director Alexander Pilyugin underlined: «The contest "Bright rays" is a good tradition of power engineers, a celebration, which is waited for in the collective. This is a great opportunity for our employees to show their wonderful, talented children, who they are very proud of, and for kids and teens — this is another area for self-realization.»