19.03.2013
In anticipation of spring break specialists of IDGC of Centre — Voronezhenergo division had a lesson on electrical safety for pupils of the first class at school # 6 in Voronezh. Prevention of children's injuries at power grid facilities of the energy company — such was the objective of the power engineers, for whom such lessons have become traditional.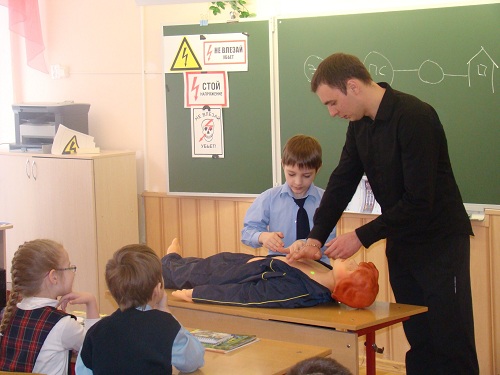 During the event the power engineers in an interesting and accessible manner told the children about the basic rules of electrical safety in school, at home and in the street, and near power facilities as well.
For a better perception and assimilation of essential rules the staff of Voronezhenergo used visual aids — leaflets and posters, of which the children learned about the dangers posed by the electric current. The schoolchildren were shown how to administer first aid to the victim with electric shock, giving them the opportunity to train on a special simulator «Gosha». None of the children remained indifferent to the subject of the lesson, all of them actively asked questions and discussed potentially dangerous cases. At the end of the lesson all the pupils were presented a gift — colourful timetables and bookmarks with the basic rules on electrical safety.
First grade class master Lilia Frolova marked the power engineers« work at a high level. "The safety of our children when handling electricity — is collaboration among parents, teachers and power engineers. At the lesson the professionals of Voronezhenergo managed in a maximum funny and accessible way to tell the pupils about all the basic rules of handling electrical current. Such explanatory work with the children helps reduce the risk of accidents at power plants," stressed Lilia Frolova.
Lessons on electrical safety — one of the areas of work to prevent injuries to third parties at power facilities. In anticipation of holiday time specialists of Voronezhenergo are performing additional checks of all substations for the availability and good order of their doors, locking devices and enclosures. They are installing warning signs on poles of power lines, substations, fences and doors of electrical installations.