11.03.2013
The Youth Council of IDGC of Centre — Voronezhenergo division won the contest for the best organization of the activities of the youth councils of Voronezh in categories «Curious Council of young professionals» and «Grateful Council of young professionals».
The contest, organized by the Department for the Youth of the city administration and the municipal institution «Centre of youth projects and programs», has been held in Voronezh for the fourth time. Awarding of the winners is a part of the Youth Forum, which brings together young people, leaders and activists of youth organizations, experts in the field of youth policy. This year's event was attended by over 200 people.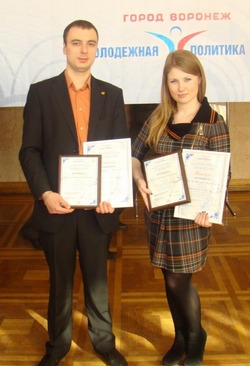 As a result of the contest among the youth councils of the city awards in two of the five declared nominations went to young activists from Voronezhenergo.
Head of the Youth Department of the City Administration Roman Obraztsov solemnly presented the awards to Chairman of the Youth Council of the branch Dmitry Dorovskikh.
It should be noted that the high appreciation by the municipal administration of the Youth Council of the Voronezh branch of IDGC of Centre is due to its active participation in the life of the city and contribution to the development of the youth policy. For example, last year the young professionals of the branch organized a tree planting at the place of the burnt forest, took part in sports and social activities initiated by the Department of Youth and Sports and Administration of Left Bank district of the urban district of Voronezh. In addition, the power engineers repeatedly won prizes in the intellectual contest among the enterprises of the city «What? Where? When?», for which they received a rank of the most curious.
As noted by Dmitry Dorovskikh, the high efficiency of Voronezhenergo's Youth Council in 2012 is proven by a large number of events organized by young people, and the number of employees involved in them. «This year we need to make every effort not only to maintain, but also to multiply the result achieved, because young professionals constantly come to our company, for whom we will try to create favourable conditions for professional and creative implementation,» he stressed.