22.02.2013
Engineer for maintenance of electrical networks of production control and safety office of IDGC of Centre — Bryanskenergo division, Chairman of the Youth Council Maxim Dankin has joined the Youth Government of the Bryansk region. He was appointed Minister of Education and Science. Identity of the minister, the decision to appoint him was handed over by Governor the Bryansk region Nikolay Denin.
The process of formation of the Youth Government of the Bryansk region began in the autumn of 2012. The purpose of its establishment is to engage young professionals in the process of socio-economic development of the region and to form a talent pool of highly skilled specialists in the Bryansk region. It is expected that the Youth Government will act as an interface between the authorities and the youth.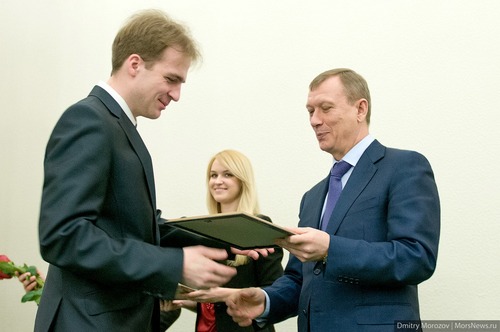 The competition for the inclusion into the Youth Government consisted of several stages. At the first stage applicants presented their projects on various activities. Bryanskenergo's employee claimed two posts — Minister of Education and Science and Minister of Culture. Maxim Dankin presented the project «Art Space» Boulevard«, which has been under implementation in the Bryansk region since the summer of last year. The essence of the project of the employee of Bryanskenergo is to allow talented young people of the city of Bryansk and Bryansk region to realize their creative and intellectual potential.
Maxim Dankin also passed the second and third stages of the competition — testing the fundamentals of public service and the organization of the federal and regional authorities, as well as basic knowledge of the state youth policy and an interview with the Director of the Department of Education and Science of the Bryansk region and Head of the Department of Culture of the Bryansk region.
In total, the Youth Government included 21 people. In accordance with its regulations ministers in two years will be involved in community activities of the Bryansk region.