15.02.2013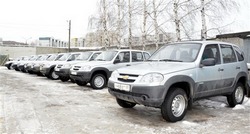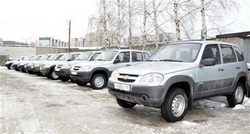 IDGC of Centre — Tambovenergo division held a solemn presentation of keys to new motor and special vehicles to chiefs of Distribution Zones.
Fifteen units of «Chevrolet Niva», six automobile workshops GAZ-33081, ten tractor extendable trailers KZS-848417, three high-sided trucks KAMAZ-43253, a mobile laboratory, two aerial trucks KAMAZ-4326, and a total of 37 units of new off-road vehicles will be available to personnel of the branch.
The power engineers believe that the new vehicles will allow to improve the efficiency of diagnostics of power equipment, to reduce the time to identify and eliminate process violations, and ensure the delivery of personnel to the work site — remote section of power lines and substations.
The creation of comfortable conditions for work of crews of electrical engineers is also of considerable importance. Power engineers are always ready, in any weather conditions, to eliminate failures and to bring light into people's homes.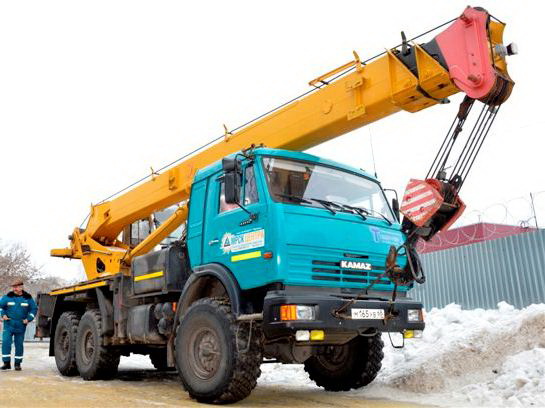 SUVs «Chevrolet Niva» easily overcome difficult sections of road pavement, consume fuel economically, and have good performance. SUVs are equipped with power steering, and have durable body construction.
«Today, modern vehicles are more important than ever to address the problem of power engineers to ensure reliable and uninterrupted power supply to consumers. The use of off-highway vehicles allows promptly to deliver mobile crews to power facilities, which are often located in remote areas. In recent years there has been a positive trend to renew the fleet of special vehicles,» stressed Deputy General Director of IDGC of Centre — Tambovenergo division director Vladimir Syschikov.
For your information:
Currently IDGC of Centre — Tambovenergo division has 535 vehicles required for the operational performance of production tasks. In 2012, six vehicles were purchased — two drilling and crane vehicles on the chassis, a car workshop, an aerial, a high-sided truck KAMAZ and a mulcher for wood residues.