12.02.2013
Staff of IDGC of Centre — Kurskenergo division took part in the ceremonial meeting dedicated to the 70th anniversary of the liberation of the city of Kursk from Nazi invaders. The annual procession unites administration, businesses and organizations in the city of Kursk.
Staff of Kurskenergo, representatives of the Council of Veterans, Youth Council, along with hundreds of Kursk residents came to the memorial to the fallen in the Great Patriotic War, where they laid flowers at the monument to the Hero of the Soviet Union Stepan N. Perekalsky. The hero of the Battle of Kursk Stepan Perekalsky was mortally wounded in the day when the city was liberated, and was not able to share the joy of the victory with Kursk residents. Kursk residents recall with gratitude the commander of the 322nd Infantry Division of the Voronezh Front, which first entered the occupied city. His name is given to the square and the street in the city of Kursk.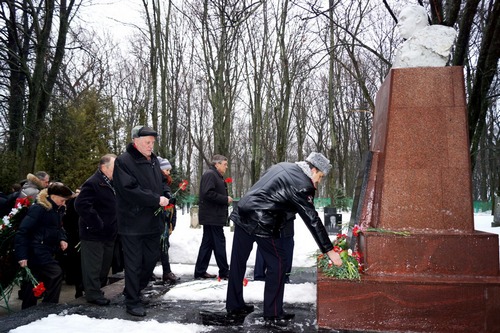 On the day of the liberation of the Kursk residents also remembered the self-sacrificing work of power engineers, who during the war fought in the Great Patriotic War, in the most difficult conditions of the war time they were restoring and developing the power grid. Retreating in February 1943 the city of Kursk, the Germans tried to destroy strategic facilities, including power grid facilities. They sought to paralyze the Kursk railway station site and mined the Central power station of Kursk. Machinist Voronov, who luckily was in the room of the power station, could prevent a massive explosion. He managed to run to the burning safety fuse and cut it a metre from the burning section. The Central power station was heroically saved! The very next day intensive restoration work began. Power engineers worked round the clock so that not for a minute to stop the work of the railway junction and dozens of defense enterprises and numerous military hospitals in the region, and provided the blackout of their hometown.
"The work of our predecessors in the war - an example of selfless service to the Motherland, a sincere desire to live in a free and happy country. Patriotism of the power engineers, their desire at all costs to increase power capacity in the name of Victory worked real miracles throughout the war. No difficulties managed to break their will. Today, we have with our deeds, actions and daily work to be worthy of the memory of the great ancestors," stressed Deputy General Director of IDGC of Centre — Kurskenergo division director Alexander Pilyugin.