16.01.2013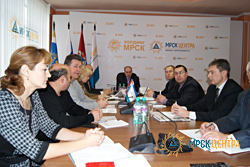 IDGC of Centre — Bryanskenergo division held a round table on grid connection, to which construction companies of the Bryansk region were invited.
The guests of the meeting were Assistant Director of Bryanskenergo Evgeny Drokonov and Head of grid connections Office Vyacheslav Medvedev. They told that the grid connection service is provided to customers in cases of connection to the grid of Bryanskenergo for the first time of commissioned electrical installations, increasing the power already connected reconstructed electrical installations, power supply reliability rating changes, changes in the point of connection, change of the type of industrial activity (not involving revision of values of connected capacity, but changing the scheme of the external power supply of such electrical installations in relation to previously connected electrical installations).
Customers were told that the amount of payment for the provision of services of the branch is determined by the Committee for State Regulation of Tariffs in the Bryansk region. It is also possible to conclude a contract for grid connection on the approved rate of payment for grid connection, on standardized rates as well as an individual project. The amount of payment per kWh is made on the basis of the voltage level and connected capacity.
The managers of relevant departments of the branch gave special attention to the term in which according to the law each stage of the implementation of the grid connection is to be completed.
According to Head of grid connections Office of IDGC of Centre — Bryanskenergo division Vyacheslav Medvedev, Bryanskenergo holds regular roundtables on grid connection, in which the branch customers — businesses and individuals — in accordance with the law are explained to the rules of application for the implementation of grid connections, as well as other questions.