11.01.2013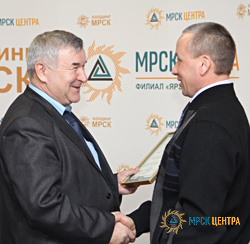 Yaroslavl power engineers, who took part in the liquidation of consequences of the "freezing rain" in the Pskov region, received corporate awards. Letters of thanks to the staff of the branch, who responded to someone else's misfortune, were given to Chief Engineer of IDGC of Centre — Yarenergo division Vladimir Grigoriev.
Temperature changes, heavy snowfall and strong winds caused massive power outages in the Pskov region. Power engineers of the Yaroslavl branch of IDGC of Centre — crews of Tutaevsky and Rybinsky Distributon Zones were actively involved in the elimination of the consequences of the weather.
Eight employees and two special vehicles of Yarenergo worked in the village of Ratkovo for six days. In total the Yaroslavl crews performed pulling of 12.46 km of wire, replaced 45 insulators and 12 traverse beams, and repaired two line switches. They also removed more than 700 trees, threatening to fall on the wire, conducted an inspection of 126 km of power lines and installed two reinforced concrete poles.
"Two years ago we helped to cope with the" freezing rain" in Moscow and Tver, this winter the colleagues from Pskovenergo needed our help. The Yaroslavl energy system was not seriously touched by this problem, but working in other regions, we have gained enough experience, if necessary, to meet bad weather conditions prepared," — stressed Vladimir Grigoriev.