28.12.2012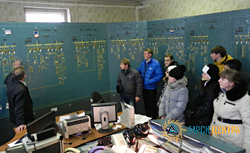 In December 2012, all 18 Distribution Zones of IDGC of Centre — Lipetskenergo division opened its doors to schoolchildren. The younger generation had the opportunity to learn the existing equipment, the work of operating and maintenance personnel.
During the meetings, an important place was the theme of electrical safety. Power engineers not only told the schoolchildren about the rules of behaviour in the vicinity of power facilities and handling of electrical appliances in the home, but also with a special dummy demonstrated first aid techniques to a victim with electric shock.
Open Door Days for schoolchildren of Lipetsk and the Lipetsk region are held regularly in all subdivisions of Lipetskenergo. The purpose of these activities is to attract young people to work in such an important sector as energy.
"Energy is a rapidly growing sector and requires constant inflow of new, professionally trained staff. That's why we try to interest schoolchildren, draw their attention to the important, honourable and prestigious occupation of a power engineer and hope that such meetings will help school-leavers to choose their career path," — stressed Head of HR of the branch Katerina Mushnikova.