27.12.2012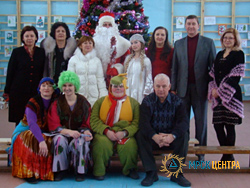 On the eve of the New Year holidays staff of IDGC of Centre — Voronezhenergo division organized the campaign "The Brightest Chrismas Tree" for children of their sponsored Talovskaya boarding school. The celebration was attended by both the children and their mentors.
Under the good old tradition the power engineers organized for the children a real theatrical performance with Santa Claus, Snow Maiden, Goblin, Baba Yaga, Clown and other fairytale characters.
In addition, the employees of Voronezhenergo lit lights on the Christmas tree, held a contest with songs and dances, and the culmination of the holiday was the presentation of Christmas gifts.
According to the specialist of the first category of social relations department of IDGC of Centre — Voronezhenergo division Tatiana Kleymenova, the care and attention of power engineers in anticipation of the holidays is particularly important for children. "Our actions have become a tradition. They give us the opportunity not only to carry out our direct responsibilities — to bring light to houses of residents of the Voronezh region, but to light the lights in the hearts of the children!"- stressed Tatiana Kleymenova.
Patronage and collaboration of Voronezhenergo and the Talovskaya boarding school was started in 2001. During its existence the charitable support has grown into sincere friendship and has become one of the priorities of the social policy of IDGC of Centre — Voronezhenergo division.