26.12.2012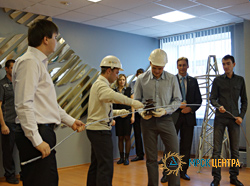 Rewarding the best employees of IDGC of Centre — Lipetskenergo division with governmental, corporate and departmental awards took place during a solemn ceremony dedicated to the Power Engineers' Day. Honours and certificates of gratitude were received by power engineers from the hands of Deputy General Director of IDGC of Centre — Lipetskenergo division director Alexander Konanykhin and Deputy General Director for Security Victor Palchikov. Representatives of the regional authorities also came to congratulate the employees of the electric grid.
On that day the power engineers were addressed with the heartiest wishes and thanks. A nice gift for the audience was a musical performance of the children's creative team of the Zadonsk boarding school.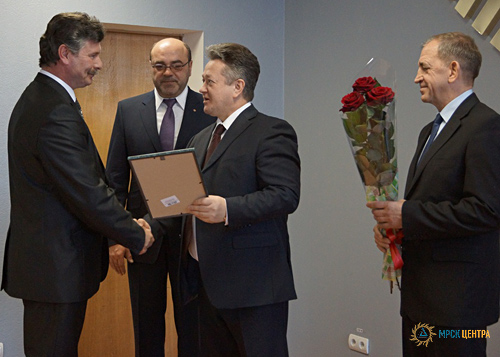 During the event the traditional "initiation into power industry" was also held. Young professionals of Lipetskenergo, employed in 2012, took an oath faithfully to observe the company's traditions, responsibly and conscientiously to perform their work and just on the stage showed some professional skills. This tradition is a testament to the fact that young professionals, having the necessary period of adaptation, were finally adopted by the friendly team of Lipetskenergo, which now has more than two thousand people.
The event ended with awarding the winners of the corporate contest of presentations on the theme: "Our Distribution Zone — our pride", organized by the Office of Human Resources and the Youth Council. First place went deservedly to Lebedyansky Distribution Zone, whose presentation, according to members of the contest committee, in the most original, high quality and fully reflected the professional life of the team. Second place was received by Krasninsky Distribution Zone and honorary third — Usmansky Distribution Zone.
Having finished a regular year with honours, the power engineers are taking on new challenges, the main among which for many decades has consistently been the uninterrupted power supply to consumers.