24.12.2012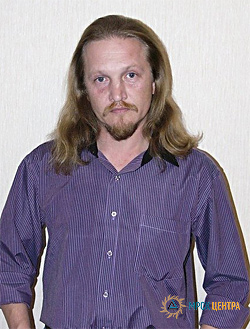 Economist of Finance Department of Orelenergo Igor Goltsov was the author of the lyrics, delivered in a new feature film of director Mikhail Segal born in the Orel region.
The song was written back in 2010 for the rock group "Period of ice".
— The band's members have known Mikhail Segal since the 90's, when a joint concert was set on a small stage of Academic Theater after Turgenev, — says Igor Goltsov. — The song "Kiss or shoot" is, above all, about sincerity, the fact that all the fake sooner or later disappears and only the present, the unseen will remain. The text itself is not a masterpiece, but in conjunction with the music written by Philip Shiyanovskiy, and in his performance, it resonates in the hearts of people.
The film consists of four short stories about the life of the Russian society, raising social, ethical and cultural issues of our time. Andrey Merzlikin, Konstantin Yushkevich and Igor Ugolnikov are starring in the film.
The premiere of the "Short stories" was held in mid-November of this year. The film received rave reviews from critics, was recognized as the best at the All-Russian festival "Viva Cinema of Russia!", won the award for best screenplay at the festival "Kinotavr" and the Audience Award at the International Film Festival "Pacific Meridian".
The author of the lyrics "Kiss or shoot" Igor Goltsov, as a highly qualified specialist in insurance, has been working at Orelenergo since 2002. He successfully combines his work with the hobby. To date, Igor has had his two collections of poetry and short stories published.