19.12.2012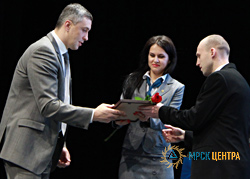 IDGC of Centre — Orelenergo division has solemnly celebrated the 55th anniversary of the Orel power grid.
Orelenergo's history dates back to December 17, 1957. On this day, Orel Economic Council announced the creation of a power complex, which brought together all the energy resources of the region. It consisted of Orel and Livenskaya CHP, 11 km of 35 kV networks and power retail.
55 years later staff of Orelenergo from all districts of the region was invited to the gala evening dedicated to the anniversary. Among the guests at the celebration were the head of the city administration of Orel Mikhail Bernikov, Vice Chairman of the Regional Council Nikolay Potapov, Deputy Head of Department of Construction, Transportation and Housing of the Orel Region Administration Alexander Pechnikov, as well as heads of energy companies.
Deputy General Director for Technical Affairs — Chief Engineer of IDGC of Centre Sergey Shumakher came to congratulate the team. He noted that the branch is in good standing, there are real professionals and wished the trouble-free operation, so that the power engineers will be recalled only on holidays.
The anniversary evening started with a laser show, which showed the development of the industry since the discovery of electricity and up to the present day. Then Acting Deputy General Director of the branch IDGC of Centre — Orelenergo division director Nikolay Pavelko congratulated the team. He addressed with words of sincere gratitude to the veterans, acknowledged the hard and intense work of the now working power engineers.
That evening 139 employees of Orelenergo received industry awards and certificates of merit.
Honoured bands of the Orel region, foster children of the sponsored Znamenskaya boarding school and talented employees of the power company performed with a concert program for the heroes of the day.