18.12.2012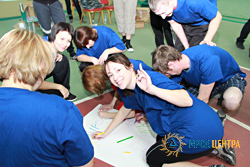 More than 400 employees of IDGC of Centre — Orelenergo division took part in a winter sports holiday dedicated to the 55th anniversary of the company. Power engineers from all parts of the Orel region competed for prizes in mini-football, volleyball, table tennis and fun competitions.
As a result of intense competition the first place in mini-football was won by the team from Orel. Power engineers from Sverdlovsky Distribution Zone Energy were the best in volleyball. The winner in table tennis was an engineer for production safety from Mtsensk Arseny Shokhov. And in the fun competitions the gold medals were won by the picked team of Zalegoschensky, Soskovsky and Shablykinsky Distribution Zones.
Sporting events in Orelenergo — one of the favorite hobbies, which both employees of the branch and their families are delighted to participate in. Therefore organizers have thought of entertainment for all the participants of the event. Anyone could be photographed for memory and immediately get a picture as a gift. Animators and aqua make-up specialists were working for children. Special contests were organized for the best fans. The sporting events were alternated with performances of professional gymnasts and dancers.
— Everything was great organized — shares her impressions a specialist of logistics and procurement Office, a participant of the fun competitions Tatiana Babkova. — The competition was very intense, everyone wanted to win. But in the end we were able to fully relax and feel like a corporate team.
Prize-winners of the sporting event were awarded with certificates of merit, medals and cups.