11.12.2012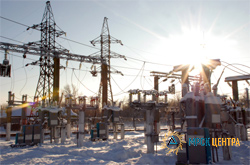 As part of the "Program of development of communication and remote control systems", planned for 2012-2017, specialists of IDGC of Centre — Tambovenergo division are performing system work on the implementation of new information technologies in one of the priority areas — remote control of 35-110 kV substations.
For nine months of 2012 data collection and transmission systems (data concentrators) have been commissioned at ten facilities in the pilot and four in the commercial operation. By the end of the year data concentrators will be put into operation at other eleven substations.
According to the program of modernization and expansion of the data collection and transmission system by the end of 2015 Tambovenergo is to perform typified technical activities at 27 facilities. At 17 of them the necessary work will be completed in 2012.
With the development of the telecommunication network a priority is the creation of fiber-optic communication lines (FOCL). Until the end of 2012 it is planned to build a fiber optic line over a hundred kilometres, and by the end of 2017 the total length of optical communication lines of the branch will exceed six hundred kilometres and will provide reliable communications to every Distribution Zone and most substations of 110 kV and 35 kV.
Due to the activities carried out by specialists of Tambovenergo you can automatically perform remote measurement of electrical values, remotely control the position of switching devices. These values in real-time via digital data transfer links come to the Grid Control Centre.
"The main advantages of remote control of substations — saving time and costs for operational services, remote control, monitoring of power consumption parameters, the state of power supply scheme and operating limits of the equipment — it allows the operator to promptly prevent and in a timely manner to eliminate failures, which ultimately will lead to a significant reduction in the time of power supply interruption to consumers," — stressed Deputy Director for Technical Issues — Chief Engineer of IDGC of Centre — Tambovenergo division Igor Polyakov.
The implementation of remote control systems in substations of IDGC of Centre — Tambovenergo division — is, above all, increasing the effectiveness of distribution networks control, ensuring reliable and uninterrupted power supply to consumers of the Tambov region especially during the operation through the autumn-winter period of 2012 −2013 by the branch.