29.11.2012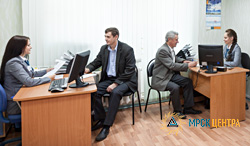 The Customer Service Centre (CSC) of IDGC of Centre — Tambovenergo division has celebrated its first anniversary. The fifth anniversary of the CSC is a significant event not only for the Tambov power system, but also for the entire population, which with the opening of the Centre received a higher level of service for electricity supply issues.
Opened in November 2007, the Tambov CSC became the first in the system of comprehensive customer service in the service area of ​​ Tambovenergo. Thanks to a big step towards the consolidation of the interests of consumers and the grid company was made.
For five years the Tambov CSC received over 12,000 consumers. In September 2012 the Customer Service Centre met its five thousandth client.
The anniversary was timed to coincide with the Open Doors Day and meeting with the branch's representatives. Specialists of Tambovenergo answered to customer questions and gave them detailed information about the company's services and capabilities of the customer service in place at the enterprise.
Tambovenergo continues its active work to expand the range of services: new areas of activity in the field of customer service are being developed. Arriving at the CSC, Tambov residents can resolve problems associated with the replacement, installation, testing of meters. Creating Customer Service Centres — a part of the customer-centric strategy of IDGC of Centre, aimed at improving the quality of customer service, ensuring the effective development of electric grid services market, increasing the responsibility to customers.
Customers have assessed the quality of the CSC operation. During the five years of fruitful collaboration with them the branch regularly receives thanks for expert assistance in the design documentation for the connection to power grids of IDGC of Centre — Tambovenergo division, as well as for careful attention to customers.
Congratulating the Tambov CSC staff on the anniversary, the head of customer interactions of IDGC of Centre — Tambovenergo division Alexander Demin underlined:
— Five years ago, the foundation for customer-centric policy was laid. Today the Customer Service Centre continues to develop. Hence, there are new opportunities to raise the bar of professional level of work even higher. On the site of the Centre there is always a friendly atmosphere, where skilled employees find an individual approach each client and resolve issues of visitors.
Please, be reminded that in addition to visiting the Customer Service Centres, consumers can use the Direct Power Hot Line of IDGC of Centre at 8-800-50-50-115, with which they can get complete information on the power supply.