21.11.2012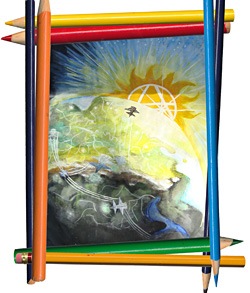 The daughter of Chief of the Grid Control Centre of IDGC of Centre — Bryanskenergo division Sergey Polyakov, Maria took second place in the qualifying round of the drawing contest "United Grid — one country", organized by FGC UES. Head of Human Resources of Bryanskenergo Natalia Galanova congratulated the winner and awarded her prizes.
She has been participating in the drawing contest of IDGC of Centre for the second year in a row. In the past year, she took first place in her age group in the qualifying round, which took place in Bryanskenergo. Her work was sent to IDGC of Centre, was among the ten best and together with other selected works was posted on the website of IDGC of Centre. This year in her age group Maria's drawing took second place in the qualifying round of IDGC of Centre. Now her work will participate in the final stage of the contest.
Maria learned about the "energy" contest from her father. Under the terms of the contest, to take part in it she had to provide a drawing associated with the energy industry.
— The word "energy" I primarily associate with the Planet Earth, electrical poles and a light source. Therefore, I have represented these objects in the drawing — says Maria Polyakova. — To get a contrast work, I did it with gouache.
Maria loves to paint since childhood. Several years ago, the parents, seeing their daughter's passion, sent her to an art school, which she successfully finished. Now Maria is 14 years old.