02.11.2012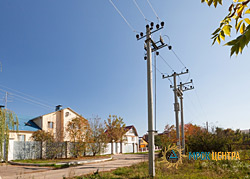 The networks went into operation of Yarenergo under the program of consolidation of power assets to the present were served by OJSC "Yaroslavl Electrical Grid Company".
A new service area of the branch in Nekouzsky district includes 186 km of overhead lines of 0.4/6-10 kV, 0.4 kV cable lines with a length of 4.4 km and 27 indoor transformer substations. These facilities are located in the village of New Nekouz, settlements of Volga, Shestikhino, October and other communities of the district.
Yaroslavl Electrical Grid Company operated the networks of Nekouzsky district starting from August 2009. During this time it made the construction and reconstruction of four transformer substations, about 5 km of 6-10kV power lines and over 10 km of 0.4 kV. In total, the electric grid development production program for the period amounted to 15 million rubles. High-quality preparation of electrical networks of the given area for the autumn-winter period was ensured. Thus, Yarenergo got the networks for maintenance, the technical condition of which meets the demands of seasonal peak loads.
"Serving the networks of Nekouzsky district, we tried to bring them to the requirements of the technical condition of the functioning of the single distribution complex of IDGC. I think that we have coped with the task and are passing the colleagues of Yarenergo a facility that is ready to operate through the autumn-winter period, and for the connection of new customers,"- underlined General Director of OJSC "Yaroslavl Electrical Grid Company" Igor Sharoshikhin.
"Nekouzsky municipal district has a high economic potential. Here every year the production and construction volume grows, and it requires uninterruptible operation of the electric grid. We will make every effort to develop and maintain their networks in good condition, to ensure the reliability and quality of power supply of customers of Nekouz,"- comments Deputy General Director of IDGC of Centre — Yarenergo division director Igor Solonikov.