02.11.2012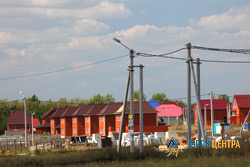 During 9 months IDGC of Centre — Belgorodenergo division made around 6500 contracts for grid connection with a total capacity of 117 MW. This is 10% more than the same period last year. 86% of the grid connections (5600 contracts) were for residential customers - individual tenant builders.
From January to September, 784 contracts were fulfilled for entities for a total capacity of 59 MW. 10 major facilities were connected to the electricity grid in agriculture and industry, including three sites under the agricultural development program (LLC "Belgrankorm" - "Refrigerator" in Rakityansky disrict (1.1 MW), "Logistics centre for reception and processing of vegetables" in Belgorod district (1 MW), "Prokhorovka feed mill" (5.5 MW), and also 7 large customers, including the airport "Belgorod" (5.5 MW).
For the new school year the branch connected to the networks nine pre-school, school and post-secondary institutions in different parts of the region; 4 fitness centres, and 8 regional and district hospitals. Under the regional programs to provide housing for orphans and children left without parental care, as well as the settlement of old and dilapidated housing power engineers provided power supply to 70 homes in 16 districts of the region.
For electricity supply of grid connected facilities the power engineers constructed 300 km of power lines of 6-10 kV, reconstructed the 35 kV substations "Slonovka", "Yarskoye", "Artisanal", "October", "Tavrovo" and 110 kV "Food industry" in Belgorod. All work was performed with the use of modern energy efficient materials that will improve the reliability of electricity supply in the region.