09.10.2012
For the second time this year a fire safety day was held in all Districts of Electrical Networks (Distribution Zones) of IDGC of Centre — Smolenskenergo division. Its main objective is to increase the responsibility of the staff to ensure fire safety in industrial activity.
A specially created commission on fire safety checked availability in all Distribution Zones of plates with the name and position of the person responsible for fire safety, availability of evacuation plans in case of fire, and at the fire alarm posts — the instruction "On actions for fire alarm". Experts examined the condition of escape routes and exits in accordance with the requirements for fire safety and proper functioning of working and emergency lighting for escape routes, signposting for staff to leave.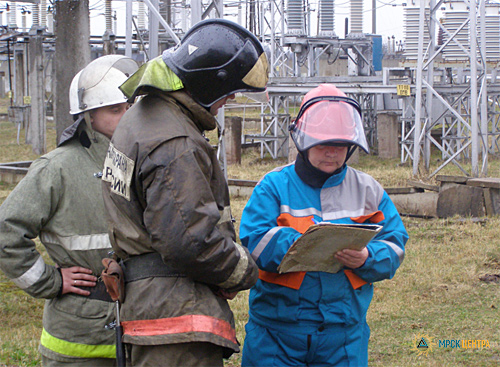 The commission examined the sites, power equipment, and transportation. Particular attention was also paid to the availability of permits with appropriate staff to perform hot work, pass on fire safety and permit records for welding production.
On the fire safety day under the program the issues of new rules on fire safety in the Russian Federation were considered, the rules of the maintenance and use of the primary means of extinguishing, procedure of their use in fire-fighting and fire, types of fire extinguishers and their advantages and disadvantages, the fire safety requirements in the premises in buildings and structures.
In each District of Electrical Networks (Distribution Zone) trainings were conducted to practice actions in the event of a fire. They were practical classes in direct fire fighting at the training site, or (in its absence in the Distribution Zone) at a piece of equipment switched off for repair.
For employees of the Distribution Zones firefighting of a package transformer substation 6-10/0.4 kV was organized using a fire extinguisher, and for sections of services of substations and diagnostics services, as well as staff of first responding and mobile crews of operational and technological groups — fire-fighting of a bay of a switch in Complete distribution device of external installation of 6-10 kV, using a fire extinguisher.
Staff of sections of power line services, department of relay protection and emergency control, operational and technological services, mechanization and transport services performed firefighting occurred at the production base (inside buildings and premises) with a fire hydrant and fire extinguisher. According to the results of the fire safety day measures were developed to prevent fires.