08.10.2012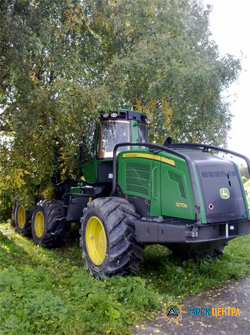 In preparation for the autumn-winter 2012-2013, IDGC of Centre — Kostromaenergo division pays particular attention to the expansion of ROWs along conductors. This is because the falling of trees on wires by natural disaster in the winter is one of the main causes of technological disturbances at power facilities. Kostromaenergo uses both a manual way to extend and mechanical (with the help of heavy machinery).
Since the autumn of 2012 for the extension of the ROWs along high voltage power lines IDGC of Centre — Kostromaenergo division has been using a new highly efficient timber cutting machine "John Deere". Power and performance of the harvester can work with the biggest trees. It is perfectly balanced for the passage of a complex terrain that is characteristic for some parts of ROWs being extended by the branch. Using the machine allows to avoid having to disconnect customers during the work performance. New harvester has a high technical readiness. Work is being done around the clock in two shifts.
Until October 15 this year, Kostroma power engineers will have completely cleared 370.4 hectares of ROWs along 35-110 kV conductors off trees. Further work on the expansion of these lines will continue over the plan.
"Using the new complex will allow Kostromaenergo to significantly accelerate preparation of ROWs along overhead power lines for the autumn-winter period, and reduce the risk of technological failures. In addition, the vehicle allows for work at any time of the year, can withstand low temperatures. Therefore, the expansion will continue in the winter time,"- says Deputy Chief Engineer — Head of production assets management center of the branch Andrey Meluzov.