05.10.2012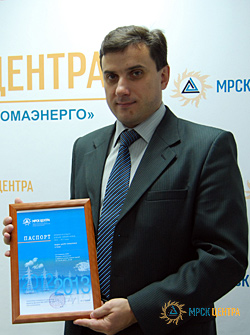 There was a ceremony of handing over certificates of readiness for the autumn-winter period 2012-2013 to 27 Distribution Zones, as well as the structural units of the branch, held at IDGC of Centre — Kostromaenergo division.
This fact was preceded by extensive work on the preparation of electric grid facilities for the autumn-winter operation period. Kostroma power engineers of IDGC of Centre performed a range of activities, which allowed to prepare the operating personnel, specialized equipment and vehicles to operate through the autumn-winter period. The repair of equipment, high-voltage power lines, relay protection and automation was fully implemented.
In addition, the branch held training exercises, the main aim of which was to test the professional knowledge and skills of staff. In mid-September Kostroma power engineers held joint exercises to eliminate failures at low ambient temperatures with the use of schedules of emergency restriction in the Kostroma region. During the exercises power engineers of Kostromaenergo practiced staff interaction of electric power companies, municipal organizations, regional bodies, Russian Emergencies Ministry. The readiness of municipal organizations, enforcement authorities for action on prevention and liquidation of emergency situations, as well as the implementation of regulations information exchange in emergency and disaster situations between the exercises' participants, was checked.
Emergency supply of materials and equipment, required by IDGC of Centre — Kostromaenergo division for the autumn-winter operation period 2012-2013, is restocked by 100%. The emergency reserve volume in monetary terms is about 25.5 million rubles. The emergency supply of Kostromaenergo includes more than 250 items. These are materials and pieces of equipment for the repair of 35-110 kV overhead lines, substations of 35-110 kV, distribution networks of 0.4-10 kV, relay protection devices and the supervisory control system. The required reserve of equipment and materials is created in the branch to address emergency situations caused by natural phenomena or man-made accidents. With its help power engineers can shorten the time of the restoration work on the branch lines and substations.
The level of readiness of structural units for the autumn-winter operation period was estimated by the commission, comprising heads of IDGC of Centre — Kostromaenergo division. They had targeted inspections of departments of the branch and gave their opinion on the readiness of the structural units of Kostromaenergo to operate at low temperatures.
From 10 to 11 October 2012 the commission headed by Deputy General Director for Technical Issues — Chief Engineer of IDGC of Centre Sergey Shumakher will test the readiness of the branch to operate through the autumn-winter period 2012/2013.