03.10.2012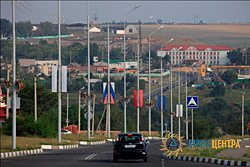 In 2012, IDGC of Centre — Belgorodenergo division has invested more than 300 million into the development of the electric grid in Belgorod district of the region. Of these, about 200 million rubles were spent on a comprehensive reconstruction of networks in the villages of Bessonovka, Rovenky and Bochkovka, more than 5 million rubles — for outdoor lighting.
Given that Belgorod district is a leader in the region for residential housing construction, power engineers with a faster pace are connecting network to numerous individual housing neighborhoods. In 2012 it is planned to connect 4.5 thousand houses in Belgorod district to the power grid, which is 10% more than last year.
Reconstruction of the electric grid is being performed by a complex method in several locations at the same time: Bessonovka, Rovenky and Bochkovka. Thanks to the modernization of networks the reliability and quality of electricity supply significantly increase, which is especially important in the autumn-winter period. So, in the village of Bessonovka and surrounding areas this year 34 km of overhead and 3 km of 0.4-10 kV cable power lines will be upgraded, and 18 transformer substations will be replaced. For telecommunications monitoring of the state of networks and remote control of outdoor lighting operation modes the power engineers installed more than 20 cabinets of an automated system. At the same time the entries in consumers' homes will be replaced, and modern electric smart meters will be installed instead of old ones.
More than 5 million rubles this year were spent on the development of outdoor lighting in Belgorod district. The number of lighting points with the replacement of old and installing new fixtures will increase from 12 to 15,500 pieces. Mercury sodium lamps, which are being replaced, have a long life cycle, low power consumption and high light output.
In general, for reliable power supply in the autumn-winter period Belgorod Distribution Zone prepared 86 settlements with a population of 102,000 people, the electric grid complex of which is 4.6 thousand km of power lines of 0.4-10 kV and 1,3 thousand transformer substations.