26.09.2012
IDGC of Centre — Tambovenergo division is performing run-in testing of a mobile crusher, the so called mulcher, which is used for mechanical recycling of forest residues at clearing ROWs along overhead power lines. The program to clear and expand ROWs is aimed to ensure trouble-free operation of the electric grid complex of the Tambov region and improve the reliability of electricity supply for customers.
The new equipment came to the branch in preparation for the autumn-winter period. The use of the mulcher can significantly increase productivity and reduce costs in the performance of work, as well as solve the problem of environmentally safe and prompt disposal of forest residues. This is especially true in the fire-dangerous period when wood burning is prohibited, and garbage disposal in landfills or specially arranged storage significantly increases the cost of work done.
"The new technology is designed to clear the forest belt off shrubs and trees. A powerful cutter of the mulcher chops wood material, trees into chips. Left on the surface chips — healthy organic substance that preserves the balance of the soil. "This technology will replace high-cost manual labour of skilled personnel with efficient machine" — stressed Acting Deputy Director for Technical Issues — Chief Engineer of IDGC of Centre — Tambovenergo division Igor Polyakov.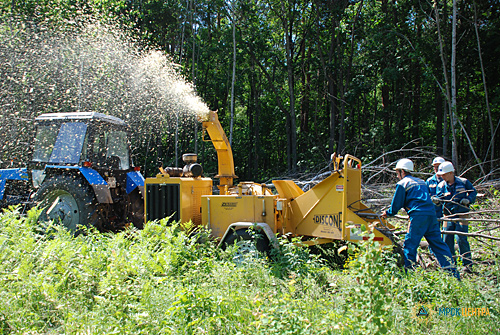 This project is considered to be a kind of demonstration of the new features in the mechanization of labour processes in the energy sector, as well as solving issues of improvement after work completion. Disposal of trees and shrubs with the use of modern, efficient and environmentally sound clearing ways, considering the use of specialized professional vehicles is one of the priorities in the work of power engineers.