21.09.2012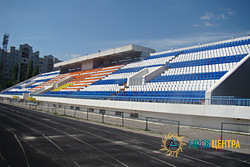 Workers of IDGC of Centre — Voronezhenergo division will participate in the trade union sports festival, dedicated to the 25th anniversary of the sports club of the regional trade union.
Power engineers will compete with their rivals in the trade union line in six sports: darts, long jump from their seats, running, table tennis, streetball and tug of war.
The competitions among athletes of the trade union will be held at the Central Stadium in Voronezh.
Chairman of the primary trade union of the branch Evgeny Pronyaev noted that different sports events are held often and experts of Voronezhenergo are always happy to take part in them. "Employees of IDGC of Centre are one of the leaders of such competitions. Events always take place in a friendly atmosphere, but at tracks and treadmills there are professional fights with passion,"- summed up Evgeny Pronyaev.
Please, be reminded that in early August of this year in Voronezh the Summer Sports Games of IDGC of Centre were held, where the final winners were athletes of Voronezhenergo.