18.09.2012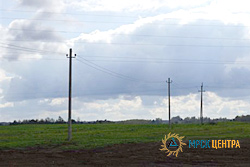 One of the main tasks of IDGC of Centre — Smolenskenergo division in the environmental field is the reduction of adverse environmental impacts as a result of industrial activity, as well as continuous improvement of environmental safety. An important consideration in the implementation of the environmental policy is to comply with emission standards of air pollutants and standards for waste generation and disposal limits.
As a result of the environmental policy program implementation in the first half of 2012 the Smolensk branch of IDGC of Centre spent 2034.19 thousand rubles on this activity. Of this amount, 331.5 thousand rubles were aimed at training for the right to work with hazardous waste; 348.79 rubles — on air protection; 47.8 thousand rubles — on the transfer of waste to specialized organizations; 421.6 thousand rubles — to develop the project of maximum allowable emission.
Recycling and disposal of used mercury-containing lamps, solid and liquid waste, transfer of ferrous and non-ferrous metals is made under the contracts with specialized organizations. In order to establish separate waste storage containers for the collection and storage of mercury waste are installed, areas for waste storage and trays for collecting oil are equipped.
In order to increase the competence of personnel in the field of environmental protection in the first half of 2012 training of unit managers and those responsible for environmental safety was held, which was attended by 51 people. They all received certificates for the right to deal with hazardous waste.
"The implementation of the environmental policy is defined as one of the priorities of IDGC of Centre — Smolenskenergo — underlined Head of health and environmental safety of the branch Alexey Gusev. — Special attention is given to minimize the harmful effects on the environment, as well as the maximum possible improvement of the environment by switching to new, more advanced and safe technologies, and an integrated approach to natural resources use."