13.09.2012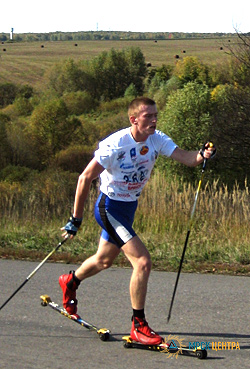 Specialist of Human Resources of IDGC of Centre — Bryanskenergo division Pavel Tsykunov became a silver medallist of the next stage of the Cup of Russia on roller skis.
The competitions were held near Kaluga, on a specially built asphalt road with a length of 2.5 kilometers in the ring. The route includes a combination of obligatory for this sport down-runs, climbs and tangents. Average speed during the race for the "summer skiing" in the race of this class is more than 30 kilometers per hour. On a twenty kilometer distance run in a difficult struggle first category sportsman Pavel Tsykunov managed to pass the line faster than his big-name competitors, some of whom have the status of Master of Sports. Pavel's great fighting spirit and good athletics training helped him overcome the distance. This year, Pavel trained hard in preparation for the Sports Games of IDGC of Centre and other major regional level competitions.
Head of Human Resources of the branch Anna Nozdracheva notes that Pavel is not only an active sportsman, giving his passion for athletics all his free time, but he also expertly coaches the team of Bryanskenergo, which, thanks in part to his efforts, well performs at Sports Games of IDGC of Centre, constantly having winning places.