30.08.2012
Human Resources Office in conjunction with the Youth Council of IDGC of Centre — Bryanskenergo division met with Bryansk students who are studying at the branch "National Research University" MEI" in the city of Smolensk.
One of the areas of the personnel policy, implemented in Bryanskenergo, is vocational guidance to be performed by the branch's employees among high school students and students of educational institutions in the Bryansk region. In this framework, on the eve of September 1 young power engineers are also meet with students who are enrolled full-time at the National Research University "MEI" in the city of Smolensk.
The meeting was opened by Head of Human Resources of IDGC of Centre — Bryanskenergo division Natalia Galanova. She congratulated the students with the imminent start of the new school year and wished them success in their studies. Acting Deputy Director for development and sale of services of the branch Sergey Nikologorsky said that the energy professions at all times remain the most popular, so one day decided to enroll in the energy profession, the young people made the right choice.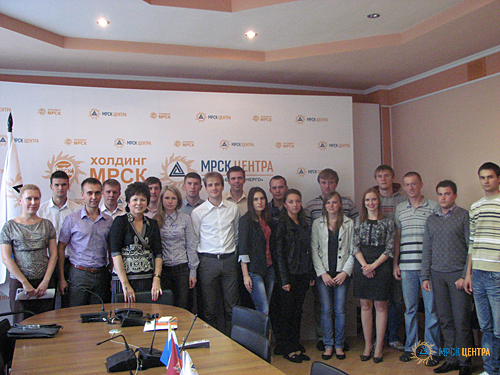 Engineers of diagnostic Service Roman Yakovenko and Evgeny Kuzin — graduates of the branch of Moscow Power Engineering Institute in the city of Smolensk in 2010 — told the current students about the features of the work and social support, which Bryanskenergo provides to its young employees.
Chairman of the Youth Council Maxim Dankin introduced the students to the activities of the youth organization of Bryanskenergo, whose objectives are to attract to work in the branch the most talented and ambitious graduates, to accelerate the production adaptation process for young specialists, to promote their professional development, to keep young people by providing an individual approach to young professionals. The work of the Youth Council of the branch also aims at identifying talent of young employees of Bryanskenergo, engaging them in science and technology, mass sports, information life of the branch, as well as building team spirit, which has a positive effect on the professional activity of power engineers.
At the end of the meeting, the students asked the young workers of the branch their questions and thanked for the detailed story on the activities of Bryanskenergo.