28.08.2012
IDGC of Centre — Tambovenergo division held a seminar for consumers on energy efficiency in the home. Tambov power engineers of IDGC of Centre told the gathered that using the simplest rules of energy saving, they can save big money on utility bills and contribute to the important task to preserve natural resources.
Recently, much has been said about the need to conserve energy, that their current sources are not infinite. How to do it for the benefit of the family budget, and for the preservation of energy resources of the planet was discussed at the seminar on energy conservation, organized by employees of IDGC of Centre — Tambovenergo division for Tambov housewives.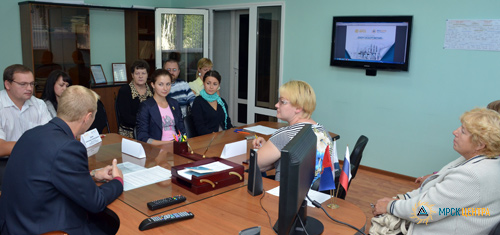 — Rational self-restraint in the use of electricity, taking action on warming of apartments and houses, in practice, allows decent saving on utility bills, — affirms Head of interaction with customers Office of IDGC of Centre — Tambovenergo division Alexander Demin. — Having established a culture of energy consumption for each person, one can also organize energy saving at large facilities in a variety of industries.
Energy conservation requires a reasonable, rational use of electric energy. Experts affirm that it is this energy consumption can reduce costs in apartment buildings by at least 30-35 per cent.
Following simple rules one can get some significant effect. For example, modern technologies of building houses, as well as devices such as thermostats, modern radiators, plastic windows and energy-saving light bulbs also reduce costs. Another piece of advice from the branch's experts to all residents of the Tambov land: nowadays when choosing household appliances they should pay attention to the energy efficiency class. The highest of these is designated by the letter "A".
— Saving on lighting — this is not just a habit to turn off the light when leaving the room, — continues the theme Head of energy conservation and energy efficiency improvement Office of IDGC of Centre — Tambovenergo division Sergey Pervushin. — It is important to choose the right light sources. To date, the best option — it's fluorescent. In addition, they provide uniform soft light, their life cycle is ten to twelve times longer than usual incandescent bulbs. In this case, they save up to 80 percent of electricity.
On the web site of IDGC of Centre at www.mrsk-1.ru consumers can get up to date information related to the company. To address issues related to the power supply, there is the around the clock Direct Power Hot Line in operation at 8800 50 50 115 (toll free).