21.08.2012
At once in several camps of the Smolensk region employees of IDGC of Centre — Smolenskenergo division held electrical safety lessons for kids during August.
In total 50 children having their holidays aged 9-14 years took part in classes. Children in a playful form were clarified terms of use of household appliances, explained how dangerous is the electric current, and how to behave near power facilities. The children were able to share their life experience and real examples with the experts.
The most interesting part of the lesson for the children was when the children could try their hand at providing first aid to a person affected by the electric current (for example, with the training dummy Gosha), after explaining the proper operating procedures and sequence of actions by the specialists. According to the educators the classes were accessible and instructive for the children.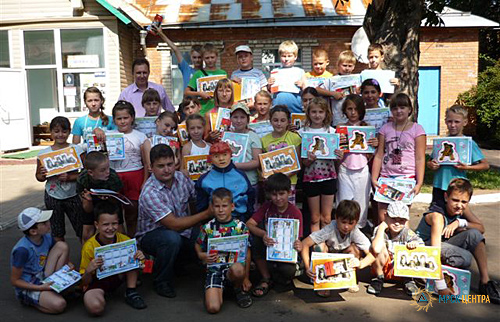 "In the framework of the Program for the Prevention of children's electric injuries at power facilities Smolensk power engineers of IDGC of Centre conduct monthly electrical safety lessons in secondary institutions, and in the summer — in recreational camps of the region. The purpose of these events — not only to introduce children to the rules of electrical safety, but also to hold discussions with teachers and educators", — explained Head of the production control and safety Office of Smolenskenergo Vasily Gipich.
Power engineers traditionally give to teachers after lessons posters, flyers, CDs with videos to prevent electric injuries, prepared by IDGC of Centre specifically for teaching children — all this will help teachers make their lessons and discussions on prevention electric injuries interesting and informative.