21.08.2012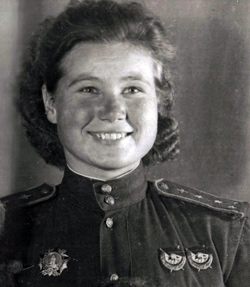 IDGC of Centre — Tverenergo division under the program "Motherland of Feat — To Homeland of Hero" took the initiative to open a memorial site in the residential district of Brusilovo in honour of the Hero of the Soviet Union, Maria Smirnova. The place was not chosen by accident — it is a new development area, where a street is named after the Tver pilot.
The patriotic action "Motherland of Feat — To Homeland of Hero" is to honour the memory of the Great Patriotic War's participants, given the highest awards of the Fatherland.
As commander of the squadron, Major Maria Smirnova participated in the liberation of Sevastopol, the North Caucasus, Krasnodar region, breaking the "Blue line", liberated Krymsk, Temryuk, Anapa, Novorossiysk, and all of the Taman Peninsula, Belarus and Poland. From April 1943 to August 1944 her squadron flew 3,260 sorties, destroyed about two battalions of enemy infantry, bombed two trains, three ferries, and neutralized five anti-aircraft points and two searchlights. Personally Maria made 960 combat night sorties behind the enemy lines.
For the courage and bravery shown during combat missions, by the Decree of the Presidium of the Supreme Soviet on October 26, 1944 she was awarded the title of Hero of the Soviet Union with handing the Order of Lenin and the Gold Star Medal. Maria Smirnova thrice awarded the Order of the Red Banner, Order of Lenin, the Alexander Nevsky Order, World War of the 1st degree, the Red Star, numerous medals ("For Defense of the Caucasus", "For Warsaw liberation" and others), is an honorary citizen of the city of Tver.
Tverenergo jointly with the Tver Regional Coordinating Council of the All-Russia People's Front, and the authorities of the City of Tver are developing the concept of commemorating Maria. In the near future — to install a commemorative plate on one of the houses on the street named after the famous pilot of Tver, and to start a contest among the residents of the city for the best monument to Maria Smirnova.