21.08.2012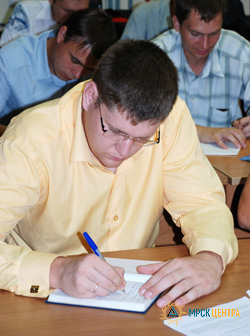 Since the beginning of 2012 IDGC of Centre — Kurskenergo division has 2,427 employees trained. Work to improve the skills of power engineers is considered in the branch to be an important preventive measure to reduce injuries and increase productivity.
309 managers had their internal corporate pre-examination training: chiefs of services of substations, power lines, relay protection and automation, measurement and metrology, heads of Districts of Electrical Networks and chief engineers, as well as masters of diagnostics crews.
Special seminars on working in the enterprise resource management system SAPR/3 and grid connection issues were organized for 340 specialists of marketing and customer interaction departments, engineers of production control and safety Office.
239 executives improved their skills in the first half of the year on topical issues for electric grid operation and development of Districts of Electrical Networks, 362 specialists of Kurskenergo were trained in mobilization preparation, electrical energy quality control, learned modern methods and software calculate operating conditions of the 110 kV grid.
Following the training of the DEN managers 771 workers had their short-term training. Slingers, cradle operators, chain saw users, electricians for operating distribution networks and instructors in first aid in the workplace increased their qualifications. Special attention was paid to the efficient organization of work, the use of modern technological developments in the workplace, as well as full compliance with the relevant safety rules and regulations during the work.
"It is hard to overestimate the importance of qualified personnel for the safe operation of the power system, — stressed Head of Human Resources Office of IDGC of Centre — Kurskenergo division Gennady Demekhin. — To train our staff, further training we choose the best educational institutions in the region, we invite experienced professionals. Timely and quality trained personnel is able to resolve quickly any operational issues".