15.08.2012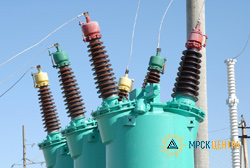 IDGC of Centre — Yarenergo division performed the half year's work plan for the calibration and verification of measuring and electricity metering devices. This area of ​​work is required to obtain reliable measurement results in the commercial and technical metering electric energy and is a key to ensure the smooth operation of equipment of the power system.
Over the last six months Section of metrology and quality of electric power of the branch repaired 959 measuring instruments, calibrated 1447 and verified 702. 398 electricity meters, 170 measuring current transformers and 74 voltage measuring transformers were also verified. Also, power engineers repaired 187 meters, calibrated 136 meters, 188 measuring current transformers and 140 telemetry channels of information and measuring systems of Yarenergo.
For 6 months of 2012 the branch implemented a number of organizational and technical measures. Three projects for the reconstruction and construction of substations of the branch underwent metrological examination. The examination involved checking the legitimacy and compliance with the state standards of measuring devices. The condition of metrological provision of operation in 4 units of Yarenergo, using instruments, was also checked.