09.08.2012
The fifth anniversary of the Tver Customer Service Centre (CSC) is a significant event not only for the Tver power system, but for the entire population of the region, who have received a new level of service for energy supply issues.
Number of requests of consumers in the Tver CSC for five years from the opening date to date has increased by 20 times. In 2012 there were more than 18,400 requests. Customers of Tverenergo filed more than 14,800 applications, 13,726 of which related to contracts for technological connection of their new facility, more than 1,100 requests were filed on other issues.
On the territory of the city of Tver and the region there are 6 Customer Service Centers, which allow customers to solve quickly their emerging issues in the field of electricity supply. Opened in 2007, the Tver CSC became the first integrated system of customer service, having made a step towards the consolidation of the interests of consumers and the power supply organization.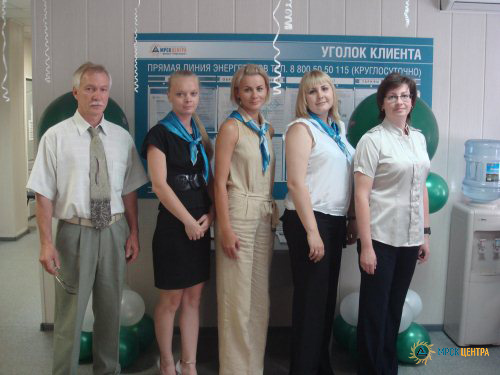 The site of the Tver CSC of IDGC of Centre — Tverenergo division was the first, where new types of customer service were worked out, new methods of interaction with the population were tested, experience was being accumulated, which was subsequently handed over to the Centers opened in Torzhok, Bezhetsk, Konakovo, Kimry and Rzhev.
The CSC has proven its effectiveness also by the fact that the number of clients is growing every year. All the centers in the region are developing dynamically and today represent a single system, the main principle of which is cooperation and being customer centric.
At the site of the Center there is always a welcoming atmosphere, where highly skilled employees will find an individual approach to every customer and quickly resolve questions of visitors. Specialists of the Customer Service Centers constantly improve their level of knowledge, undergo training, participate in workshops, and take exams to have their competence and professionalism in the performance of duties assessed. Such events help to spread the experience of the Centers to work with clients, which are under the Districts of Electrical Networks.
For 5 years of fruitful collaboration with consumers the CSC has received more than 2,700 letters of gratitude for the qualified assistance in the design documentation for technological connection to electric networks of the branch, as well as careful attention to customers.
"All conditions for fast and quality service were created in the CSC. The Customer Service Centers continue to develop, and thus new opportunities are coming to raise the bar at a professional level of work even higher", — stresses Head of the Customer Service Centre Oleg Stepanov.
Please, be reminded that in addition to visiting the Customer Service Centres, customers can take advantage of the Direct Power Hot Line at 8-800-50-50-115 (toll free), with which you can get complete information on the power supply.