27.07.2012
This March Customer Service Centre of IDGC of Centre — Smolenskenergo division in the city of Smolensk celebrated its four-year anniversary. In June, it was reopened after a small break associated with the repair, and a month later it opened the doors to the 27 thousandth customer. It was a resident of the regional center Korznikova, who first used the services of the Centre.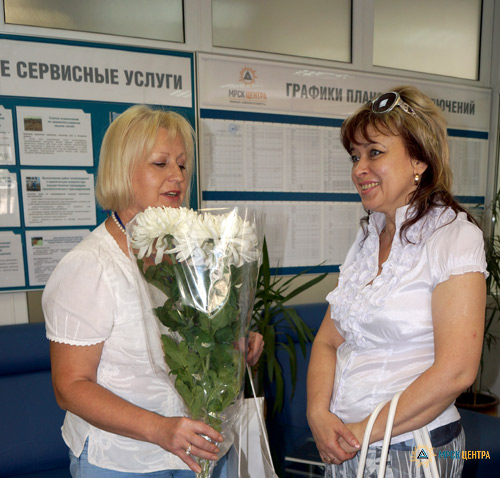 Head of Customer Service Centre Irina Eliseenkova congratulated the client with a commemorative visit and gave her a gift. According to Nadezhda Korznikova, she was pleasantly surprised with the attention to her from all the employees of CSC, their expertise on many issues, and quickness of work to receive documents on grid connection. Most recently, she bought a plot of land in Zadneprovsky district of ​​the city of Smolensk, which in the coming years she plans to build her house on. The happy coincidence, by which Nadezhda Korznikova was the anniversary visitor, increased her good impression from the treatment in the Customer Service Centre of Smolenskenergo.
Head of customer relationship management section of Smolenskenergo Tatiana Antoniuk noted that the honouring of the jubilee visitor of the CSC has become a good tradition of the branch for which the interests of potential and existing customers have always been a priority in the work.
On the territory of the Smolensk region there are 3 CSCs in operation, any of which may be visited by consumers. Employees of the Centers provide clients with advice on the grid connection procedure, complete information on additional services provided by the branch, as well as answer questions relating to power supply.
In addition to the services of the Customer Service Centers, consumers can use the Internet reception on the website of IDGC of Centre at www.mrsk-1.ru, with which one can also get all necessary consultations. Also for the convenience of customers in all regions of IDGC of Centre operates the Direct Power Hot Line at 8-800-50-50-115 (toll free) is in operation, calling which one can solve issues related to power supply.