04.07.2012
Three years ago IDGC of Centre — Yarenergo opened in Yaroslavl the Customer Service Centre (CSC). On the anniversary day power engineers congratulated all visitors of the CSC with a festive date and presented them with souvenirs with symbols of the Company.
Since its opening of the Customer Service Centre was visited by 13,265 customers. Other 493 customers preferred the extramural form of application at the CSC: by phone, email or regular mail. Employees of the office received 7761 applications, provided 5294 consultations and recorded 706 reviews. In addition, experts of the CSC made 3177 calls to consumers with reporting of preparedness of documents and explanations of the grid connection procedure after the conclusion of their grid connection contract.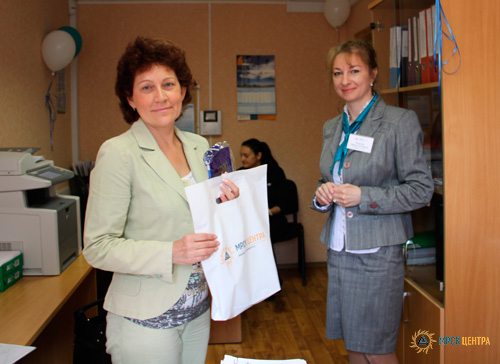 Customer Service Centre in the city of Yaroslavl is one of four customer service centers of Yarenergo. Their work is aimed not only at the reception of applications, appeals and the provision of advice, but also to establish a feedback loop. At CSC sites round table discussions on topical issues of the branch are regularly conducted. In particular, power engineers tell consumers about how to connect to the grid, what is included in the additional services of the Company, what are the benefits of smart meters. Also, customer service centers hold seminars and tutorials on the topic of energy security and energy efficiency.
"The number of clients who applied to the CSC in the city of Yaroslavl is constantly growing. Over the past six months it received more than three thousand requests. This suggests that the customer service center is in demand among the population, and therefore we will continue to develop this area of activity", - stressed Head of interaction with customers Office of the branch Elena Sosnina.