26.04.2012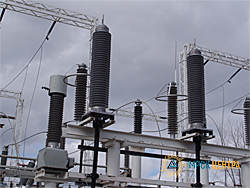 Despite the winter cold and snow IDGC of Centre — Orelenergo division operated through the autumn- winter 2011-2012 according to the plan and reduced the total number of outages in the 35 — 110 kV grid by 30%. Compared to the same period last year, the power engineers reduced the average time of faults elimination and power supply restroration.
This was facilitated by the implementation of complex interventions to improve the reliability of electricity supply and to isolate faults in the equipment operation. "In preparation for the autumn- winter operation period the power engineers renovated 1177 kilometers of power lines of 0.4-10 kV and high-voltage lines of 35-110 kV, which is 19 kilometers over the plan, 11030 suspension porcelain insulators were replaced with glass ones. A componentwise repair was performed at 68 substations of 35-110 kV. 85 distribution grid transformer substations of 10/0.4 kV and 8 substations of 35-110 kV, 95 transformers of 6-10/0.4 kV were overhauled. 854.7 hectares of forest under high-voltage transmission lines were cleared,"- stated Deputy Chief Engineer — Head of Production Asset Management Center of IDGC of Centre -Orelenergo division Sergey Zakharov.
In order to improve the safety of electrical equipment and prevention of children's injuries Orelenergo replaced bare wire of 10-0,4 kV overhead lines with safe self-supporting insulated conductors. So 48.8 kilometers of the wire were installed in the premises of 105 schools, preschools and residential areas. This target program has been completed in full.