29.03.2012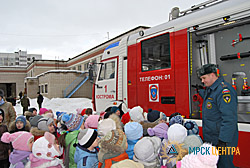 As part of a cooperation agreement between IDGC of Centre — Kostromaenergo division and SEI MES of Russia for the Kostroma region power engineers had a lesson on safety at the Children Development Centre — Kindergarten # 75.
About 100 children of senior and preparatory pre-school age groups attended the class. Leading Engineer of industrial control and safety Office of IDGC of Centre — Kostromaenergo division Alexander Komov explained to the children in an entertaining way the rules of using electrical household appliances, explained the danger of the electric current and how to behave in the vicinity of power facilities. Preschoolers vividly reacted to the story, gave examples from their life. The children learned a few rules: one must not penetrate into transformer substations, climb poles, fish and fly kites near overhead power lines and build fires under wires. The children could try their hand to provide first-aid to a person with electric shock. For this a dummy Gosha was used. According to the c kindergartners the lesson was teachable and instructive to the children and they appreciated the importance of the knowledge gained.
Holding the event in conjunction with SEI MES for the Kostroma region presented by firemen of Fire Station # 1 of the First Detachment of the Federal Fire Service of the Kostroma region allowed to make it in the integrated manner, to consider the safety problems deeper and wider, to form in both the children and teachers the idea of ​​different forms of health protection. Employees of the Fire Station #1 told the children what was inside the fire vehicle, for which each tool was used, how the water entered the fire hoses and many other nuances that were not visible at first glance. It is no coincidence that the day was named in the preschool establishment as the Safety Day.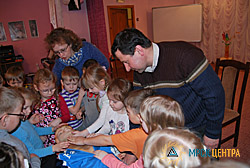 Lessons for electric safety for kindergartens Kostroma power engineers of IDGC of Centre conduct within the framework of the Programme for the Prevention of Children's Electric Injuries at Power Facilities. First of all, experts of Kostromaenergo talk to the staff of kindergartens. The brought by the power engineers posters and flyers, CDs with cartoons on prevention of electric injuries, prepared by IDGC of Centre especially for children, help teachers to make conversation with the kids interesting and informative.
Head of Preschool Education Department of Education Administration of the City of Kostroma Ekaterina Popova noted: "An important aspect of preserving life and health of children is to prevent electric injuries. In this regard, we are actively cooperating with IDGC of Centre — Kostromaenergo division, paying particular attention to issues of children's safety".