25.01.2012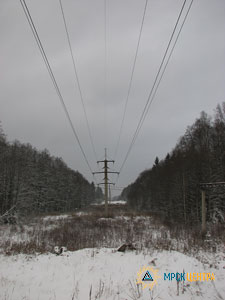 IDGC of Centre — Bryanskenergo division exceeded the annual program to clear ROWs along overhead power lines: the plan in 2011 was 771 hectares, in fact 922 hectares were cleared. The clearing of ROWs was performed using the branch's own employees and contractors specializing in it.
During the performance of the work special wood shredders — mulchers were used. Efficient and effective clearing is performed with their use: the mulcher cuts bushes, grinds and mixes them with topsoil. This method is fast and eco-friendly and solves the problem of disposing of wood tissue. This year, almost a quarter of the planned to be cleared area was handled with this progressive method.
Work on clearing ROWs along conductors in preparation for the autumn-winter peak load operation period is of particular importance. The lack of trees and shrubs on the ROWs along high-voltage power lines — one of the important conditions for uninterrupted power supply in a heavy snowfall and strong wind activity.
Bryanskenergo completed its annual ROWs expansion program. In total the ROW extension was performed in the area of 341 hectares, which would eliminate outages of conductors from falling trees onto wires.
"The special importance of this type of work is due to the fact that most of the overhead power lines in the Bryansk region pass in the forests and ROWs along power lines being overgrown can cause technological failures in the power system. Timely ROW expansion and clearing significantly increases the reliability of power supply", — noted Deputy Director for Technical Issues — Chief Engineer of Bryanskenergo Alexander Kosarim.