06.12.2011
IDGC of Centre — Tverenergo division held an open day for students of the second and third year of Tver Engineering College. Power engineers introduced the students to the main activities and prospects of the division, described the social guarantees and interest in the young staff.
Opening the meeting, Head of HR Office of IDGC of Centre — Tverenergo division Sergey Zhirkov said: "Power industry is a circulatory system of the entire region's economy. This year will mark the 75th anniversary of the formation of the Tver power system. The figure seems small in terms of the periods, but during that period an enormous leap in all sectors was made, and the power industry became a solid foundation for the creation of industrial and social growth of the region".
Students were shown a presentation on employees of IDGC of Centre, awarded the honorary title "Honored Power Engineer of the Russian Federation". Students particularly remembered a story about an electrician of the 4th degree of a mobile crew of Operations and Technology Group of Rameshkovsky District of Electrical Networks (DEN), Sergey Samsonov. His experience in the energy sector is 38 years, and giving people the light has became the business of his life.
Chief of Operations and Technology Group of Kalininsky DEN of the division Evgeny Efimov introduced the students to the principles of power transmission, as well as the specifics of power engineers' work. "In order to have lights on in a house, and vehicles moving along roads, electric current goes a long way. Throughout this way it is accompanied by people — smart, highly qualified, dedicated to their business. Only in this case electricity helps people create,"- stressed Evgeny.
Head of technical and production control Department of IDGC of Centre — Tverenergo division Vadim Mazur told the students about first aid techniques. Practical skills were demonstrated at a special dummy Gosh.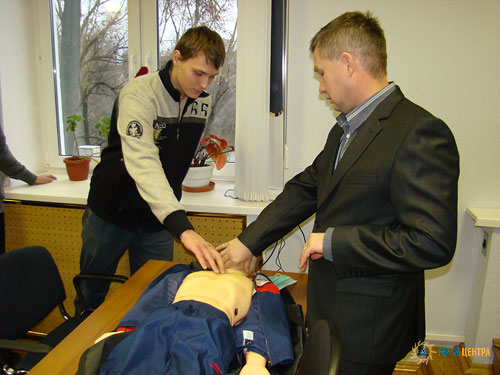 The communication with the power engineers was continued with a tour to the Grid Control Center (GCC), where the students met with the work organization of specialists of the Centre. The students were able to see the technical equipment of the GCC, which includes a video wall, a central receiving and transmitting station and modern communications and telecommunications. The students were told about the important work of operators, who regulate the work of mobile crews and control the situation in the region.
The open day ended with a trip to the substation "Azure", equipped with new and modern equipment: transformers rated at 40 MW, current-limiting reactors, gas-insulated and vacuum circuit breakers, protection panels and an operational control panel.
Today the division cooperates with Ivanovo State University, Tver State Technical University, Bezhetsk Industrial and Economic College and Torzhok Polytechnic College. Tverenergo pays great importance to work with young people, because utilities are an emerging industry that is interested in specialists with a high level of training.