01.12.2011
On the eve of the professional holiday within the Open Doors Day students-future electricians of vocational school #4 of the city of Livny visited Livensky District of Electrical Networks (DEN) of IDGC of Centre — Orelenergo division.
The students met Head of DEN Nikolay Levin, who introduced the guests with the history of Orel power system, spoke about new technologies and innovations used in the enterprise. For the future power engineers a tour was arranged where they had the opportunity to become acquainted with the work of electricians.
Head of production and technical team Alexander Lazarev conducted an introductory seminar on the technical policy of IDGC of Centre, spoke about the principles of the modern equipment used in Orelenergo: reclosers, insulators, vacuum switches, self-supporting insulated wires.
From the conversation with Engineer of relay protection Service Alexey Chichikin students learned about what equipment and relay protection elements are currently in use and were used before.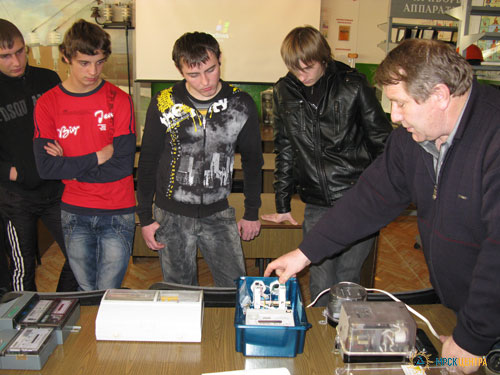 Particular attention was paid to the multifunctional electric energy meters that can operate both independently and as part of automated information-measuring systems for monitoring and metering of electricity. The use of these meters provides efficient reception of accurate data on the amount of consumed electricity by automatically collecting data, identifying locations of excessive energy losses.
At the end of the meeting the future power engineers got acquainted with the rules of labor protection at the Company, protection devices and principles of their actions. Students watched a film entitled "Electric injury" and tried to perform resuscitation on a mannequin-simulator Gosha.
According to the opinion of the vocational school's students, the Open Doors Day not only gave them a chance to get acquainted with the modern power equipment, but also showed how it is important to constantly acquire new knowledge, improve education, to become a true power engineering professional.
For power engineers of Orel division of IDGC of Centre the annual Open Doors Day is the preservation and maintenance of respect for the profession of the power engineer, the opportunity to show the younger generation of power engineers that the work is not only responsible, but also prestigious.