28.11.2011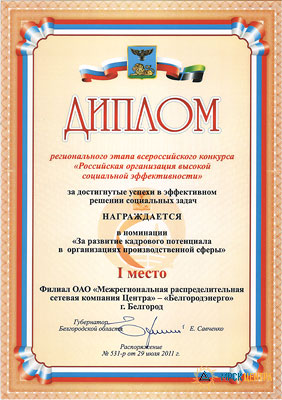 IDGC of Centre — Belgorodenergo division was awarded the diploma of the I degree of the regional round of the contest "Russian Company of High Social Efficiency" for winning in the nomination "For the development of human resources in companies of non-productive sphere". The honorary award from Governor of the Belgorod region Evgeny Savchenko was received by Deputy Director for technical issues — Chief Engineer Denis Yagodka.
The contest is organized by Ministry of Health and Social Development with the participation of federal and regional executive authorities, nationwide employers' associations and trade unions.
The contest is being held for the 11th time and consists of two rounds: the regional and federal, in 11 categories. Its goal is to determine what Russian companies are achieving the highest social efficiency in solving social problems, as well as study and dissemination of their experience.
IDGC of Centre — Belgorodenergo division among the other winners is taking part in the federal round of the contest. At the end of this year, the Russian tripartite commission for regulation of social and labor relations will call names of the winners at the federal level. The solemn ceremony will take place in Moscow in the Government House of the Russian Federation.